The Austin Gutterman Difference
Our Commitment to You:
At Austin Gutterman, our entire business model is designed to provide all of our customers with the very best customer experience possible. That starts with a high-quality product but it goes far beyond just parts and labor. Our mission is to provide you with consistent, predictable quality and exceptional customer service each and every time.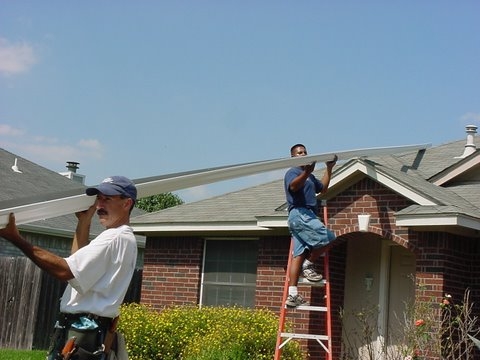 We have installed OVER 1 MILLION feet of gutter over the past 30 years!  That is a lot of gutters and a lot of satisfied customers Austin Gutterman has serviced.
But to Austin Gutterman, it doesn't matter if you are our first customer or our 60,001th customer. We are committed to your complete satisfaction and leaving your home in a better place.
So why Austin Gutterman? It's the question every home or business owner asks him or herself before selecting a company. We get it; we are also consumers at heart and go through the same process when we are looking for someone to work on our personal home. Below is a list of things we would look for when choosing a gutter company to trust with our home and property.
What Sets Austin Gutterman Apart
People
Our team is a reflection of our brand and every member of the Austin Gutterman team is a full-time employee who takes pride in their position.  Our average length of employment is 10 years!
Products
We only work with industry veterans and innovators like SnapLock® and LeafLock® whose products will be around for the life of your home. We do not buy cheaper products to save money because that does not give our customers the very best.
Installation Team
We don't cut corners and that includes who we hire for gutter installation. We only hire and train the best gutter installers to ensure your gutters or leaf protection is installed correctly the first time. Unlike other companies who use subcontractors, we have control over the end result of your project.
Price
Austin Gutterman believes in providing value and quality work. Gutters for house cost more than you might initially think. But if you shop on price alone, you will most likely sacrifice quality over time. Roof gutter installation cost will vary, but our installation and product quality never varies.
Experience
Time breeds expertise. Our team has over 280 years of experience in the gutter industry and created a Master Installer program to test and recognize experience.
Credibility and Sustainable Results
Austin Gutterman's goal is to solve your immediate problems, eliminate any future problems and achieve 100% customer satisfaction. We want you to have a seamless gutters experience!