The SnapLock Gutter Installation Process
No Rot. No Mold. No Holes. No Water Damage.
Austin Gutterman is proud to be Central Texas's exclusive provider of the SnapLock™ Gutter Installation system. This system allows you to install sturdy, long-lasting gutters, even on angled fascia boards, with a system that prevents rot, mold, water damage, and the holds in the gutters that allows those things to happen.
SnapLock™ is a revolutionary rain gutter attachment system. It consists of a specially designed truss and bracket that allows gutters to be "snapped" into place on the fascia. The gutters are stronger and can handle more weight but literally "float" in place. SnapLock's™ innovative "No-hole" technology uses no spikes or nails for attachment to your roofline. There is no need to penetrate the front or back of the gutter. The result is a watertight mating of the gutter at the edge of your roof – a seal that prevents seepage, rust, rot and mold. Further, because the integrity of your gutter channel is not riddled with holes, the SnapLock Gutter System® dramatically outlasts traditional rain gutters while protecting your home against the hazards associated with bacterial mold and fungus.
Traditional rain gutters have changed little during the past 100 years. Today, their designs employ spikes, screws, or nails for attachment to your home, just as they did at the turn of the century. And while this outmoded gutter technology offers satisfactory benefits in the short-term, results over many seasons remain the same: Structural failure because of rot, mold and gutter separation. Start with proper gutter installation and you avoid many problems no self-proclaimed gutter king can match.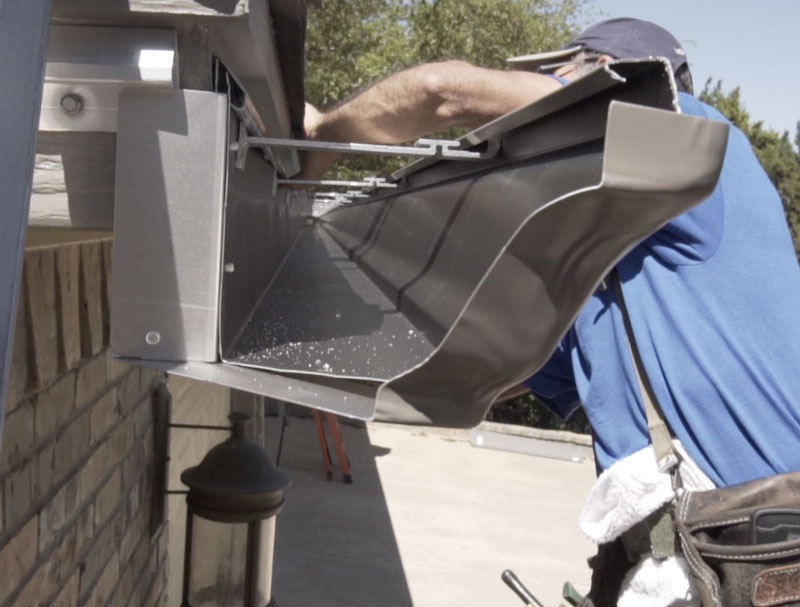 Why is SnapLock™ far superior to conventional gutter installations? Four Critical Reasons:
There are NO Holes in your gutter which creates a water tight seal.
The gutters are allowed to move freely which is critical when affixing any type of metal to a structure.
SnapLock™ allows for ventilation behind your rain gutter therefore eliminating condensation so your fascia will stay dry.
SnapLock™ comes with a Limited Transferable Lifetime Warranty.
If your home is ready for more than merely "conventional and temporary," you'll appreciate the structurally sound and technologically advanced SnapLock Gutter System®.